"Sukiyaki Western Matsusaka"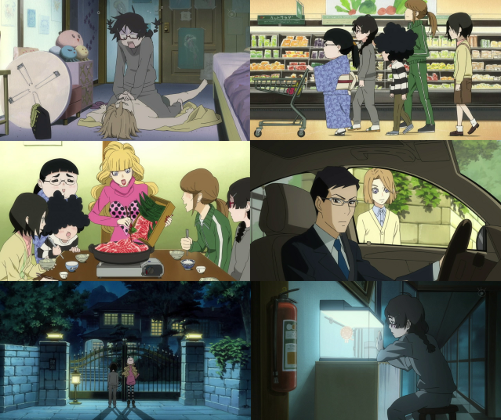 Summary: The cross-dresser tries to get along with the group of female otaku.
Mimi: I couldn't wait for this episode, and it turned out to be just as awesome as I had hoped. The silly and intimate ways in which the characters interact are really entertaining, especially when they all go shopping at the grocery store and have a "hot pot" for dinner. Their otakuness follows them everywhere, as Mayaya just can't stop comparing every little thing she sees to The Three Kingdoms. But when the cross-dresser mingles in with them with his bright and sociable personality, they turn to complete stone. The slightest thing he says gets on their nerves, like by calling Jiji a "light eater" or addressing Mayaya as "honey." Simply put, it's really tough on their comfort zone to hang around this guy. How do you act around an outsider who notices every little thing about you, talks so much, and lives in a totally different sphere? Considering that I only hang around a group of anime otaku, I can relate a bit.  =P
The cross-dresser definitely interests me the most out of anybody though. We find out that he lives in a mansion, and he is expected to dress normally at home, especially in the presence of his father. What kind of guy is he? He also has a brother who appears to be the ideal son, so if I wonder if they get treated differently. I really want to find out more about his lifestyle. I'm thoroughly enjoying this series, and I'll pull my hair out if this gets delayed ever again. Same goes for you, Shiki!