Granitz Village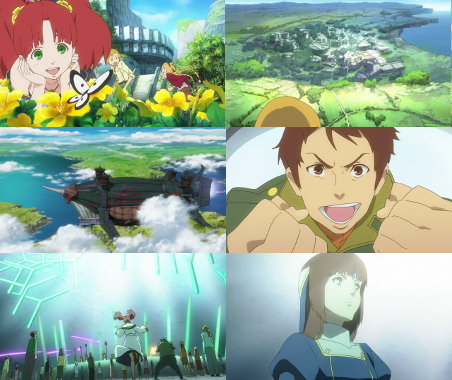 Summary: Clain is fascinated by a village that is not controlled by the Fractale system.
Mimi: Wooooah.. With this amazing episode, Fractale has finally captured my complete attention! I didn't expect such a serious, dark ending to what began as another lighthearted episode. Clain, Nessa, and Team Rocket arrive at Granitz Village, where the people don't depend on the Fractale system whatsoever. They produce their own food, run a hospital, educate kids through schools, and they live naturally without a single doppel in sight. An old villager isn't too happy when he sees Nessa, but all the others welcome her warmly. Clain is particularly fond of the village because people do things the old-fashioned way, and he has never seen so many of them gathered in one place before. Interestingly, Nessa begins to feel a little insecure because she realizes how different she is from everyone–she can't taste that yummy homemade soup, and Sunda just refers to her as 'data'.
It turns out that Sunda, Enri, and those two goons belong to an organization called "Lost Millennium," and their purpose is to liberate people from the Fractale system. Although they had taken Clain and Nessa along with them as hostages, they endeavor to show Clain the reality of what is going on and involve him in their affairs. Sunda also explains that they're after Phryne because she is "the key to the world," and Nessa is believed to be holding valuable data. Towards the end of this episode, they jump back on the airship and fly over to another population where people are preparing to celebrate the "Star Festival." This is more like a ceremony where villagers and priestesses gather to pray to the stars so that they can receive the benefits of the Fractale system. However, Sunda reveals that the villagers are actually being brainwashed by the system, and the terribly shocked Clain gets to see everything in action. Suddenly, the whole group crashes the ceremony by shooting at the priestesses, and another Nessa is among them. Annnd she's Phryne's sister. Wowza! o.o
So yeah…I totally didn't anticipate that bloodbath happening any time soon (or at all). And did one of the Team Rocket goons actually get shot? Wow. This really feels like a major turning point considering that the previous episodes were just silly and lighthearted. I love how this is getting all serious now!