There are Miracles and Magic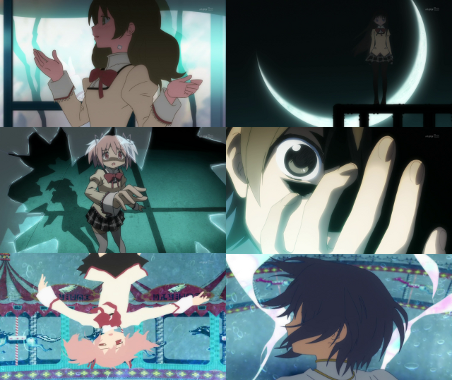 Summary: Sayaka becomes a magical girl!
Mimi: Wow. This episode is just freaky and flippin' cool at the same time.
Sayaka and Madoka hold completely different attitudes towards fighting now, as Madoka has been feeling the most disturbed since Mami's death, and she solemnly rejects Kyubey's contract. She even thanks Homura for saving her from becoming a magical girl, and Homura claims that she has witnessed countless other deaths just like Mami's. On the flip side, Sayaka is pushed to her limits because Kyousuke is rapidly giving up hope on his life, and there is no cure for his illness, so she finally grants her wish. I have to say, she looks incredibly awesome as a magical girl; even though she's a rookie, she already kicks serious butt. Love her cape~ <3
Madoka also has a few great scenes in this episode, such as when she tries to prevent a group of people, who are being controlled by a witch, from committing suicide; her friend Hitomi is also among them. Shortly after that, she gets sucked into the witch's surreal world and helplessly played around with. If Sayaka hadn't come to rescue her, she would have been torn to shreds or something. x_x
Compared to other magical girl shows, this series moves in reverse order as to when the characters transform for the first time. Usually, the innocent main character transforms first and has to protect everybody, followed by her friends and people she meets along the way. But here, Madoka is the only one who hasn't transformed yet, and we're already four episodes in! I really like how this series takes a different approach to that order, as the focus is never completely on Madoka. I do wonder when she's going to step into the action though.
Getting back to the episode, it seems that Sayaka is in for a bit of trouble now because there is another magical girl who wants her territory. The fate of the city already rests on her shoulders, and I can't wait to see their showdown!