Digimon Xros Wars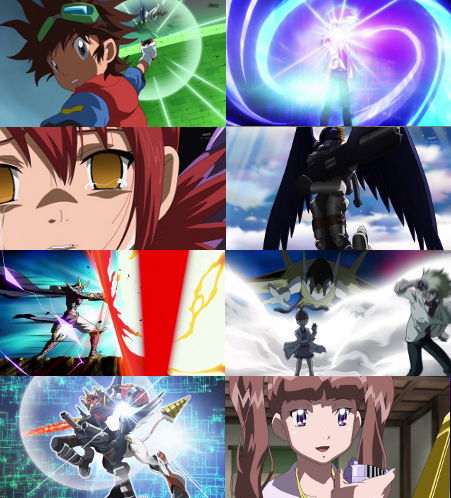 Mimi: I didn't expect to be writing a review for Digimon Xros Wars so soon, but I just noticed that it's getting split into two seasons. The second one, which is scheduled to air on April 3rd, is called Digimon Xros Wars: The Evil Death General and the Seven Kingdoms. Am I going to blog it? You bet I am! I didn't come this far to give up on the series, and I have my reasons to believe that it will get better.
So, I'm going to be blunt here. Digimon Xros Wars is my least favorite season of the entire franchise. At this point, I've completed seasons 1, 2, and 3, watched a lot of season 4, and a tiny bit of season 5. Well, it could be that Digimon Savers is actually the worst, but from what I can tell so far, Xros Wars is the least impressive. I was immediately turned off by Taiki's ordinary sidekicks, Akari and Zenjirou, who don't have Digimon partners. I also don't like how the Digivice functions like a Pokeball. Taiki can store a great number of Digimon in his Digivice (Xros Loader) and call them out whenever he wants. Usually, he combines (or DigiXrosses) multiple Digimon into one stronger form. This took a while for me to get used to.
Taiki's lighthearted adventures in the Digital World start out pretty boring. If you've ever played Sonic the Hedgehog, do you remember starting in Green Zone and traveling to different worlds that have a distinct theme (winter zone, volcano zone, tropical island zone)? Well, that's exactly what Digimon Xros Wars is like. Sure, some worlds are better than others, but the formula is too straightforward and uninteresting. As Taiki visits each world, his objective is to free the Digimon from the Bagra Army and earn something called a "code crown," which is analogous to how Mario collects stars to unlock new worlds. This gets repetitive and old fast.
If this is indeed the worst season ever, then what saves it from being completely unwatchable? For me, it would have to be the three mystery characters–Kiriha, Nene, and Ba'almon. At first, they only pop up in random episodes for three seconds, but as they appear more often, the show gets a heck of a lot more interesting. Particularly Nene's arc and Ba'almon's arc contain the best (and darkest) episodes. They truly saved this series from falling below mediocrity. Plus, the graphics and animation are quite good, though a little inconsistent.
I think that the second arc is going to be better because of three things: First, Akari and Zenjirou are dropped from the series. Second, the character designs have changed. Kiriha looks even better, and they're all wearing new outfits, which is very refreshing. And third, the plot should be heading in a different direction now. Anything would be more interesting to watch than the repetitive first arc. With Taiki, Kiriha, and Nene in the forefront and looking better, I think that Digimon Xros Wars has a chance to redeem itself, and I'm looking forward to it.
Mimi's Score: 5 Meeps out of 10 (Average)