Sawsbuck: A Four Season Line-Up!!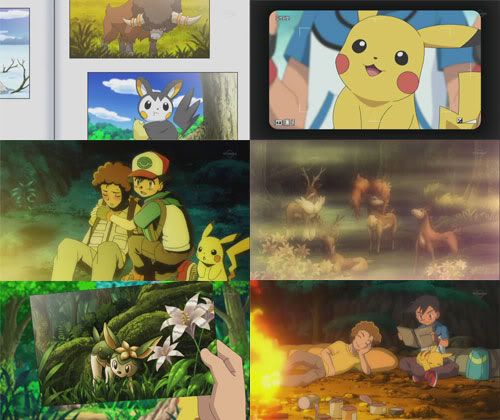 Alex:  This is exactly my problem with this series. When it's getting slightly stale…it pulls an episode like this. It was absolutly beautiful to witness the wild Pokemon and the amount of creativitiy that had been put into bringing their environment to life. The trio meets Robert, a Pokemon Photographer on a mission to prove that his grandfathers legendary picture of the Sawsbuck is real.It had such a unique and gripping feeling to see these Pokemon in natural habitats…a place where humans hadn't touched. It just captures my imagination when I imagine all these places where we've never travelled and never seen, and sights and creatures still to be found. The way they captured the majestic glory of a Sawsbuck was something to be seriously impressed at.Photographs are wonderful things, no?
On an unrelated note..i'm thinking of putting together some form a list or something of the episodes worth watching and the episodes which are typical fillers. I might multi-post the fillers and do a separate post for the episodes worth watching.