Daily Wage Hero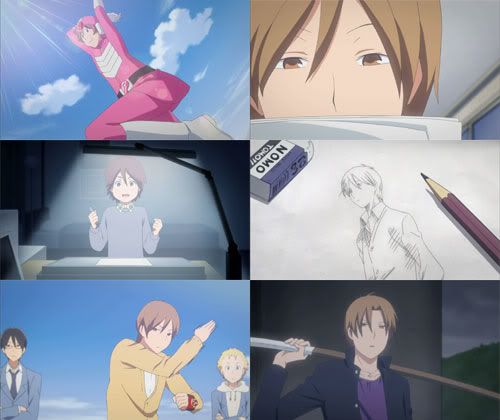 Liam: Ohoho, Yuki has to write a manga for a first year named Matsushita. Every time this kid comes up to Yuki I think "Oh, we're getting some guy love in here." d:
But, anyway. It's funny how they all take turns making a page for the manga. Me and my friends would try to draw the same thing, and it would turn out pretty much terrible. xP I have some art skill, but I'm not very good at it. Kanames drawing had to be the best. With those dramatic cats, and then Bam! Best drawing and story in the history of ever. Theeeen, Yuki goes to make copies, but instead goes to shred it in the shredder. He's so smart. Matsushita looks at Yuki like some super hero, but at the end it turns out funny "There's an Anime at 5 I don't want to miss" Right when he's about to get pumled into the ground. I just started cracking up when I saw they took out those power ranger suits. The next scene the first year does is just fantastic. I never thought I'd see a Shun x Yuki. xD
This episode was just fantastically hilarious. I don't want this anime to end at all.