Trying out a new format…below is basically a list of everything we've been watching. We're going to list all the shows we've been watching, and our thoughts on what they've been like the past 4 weeks (expect this time it's going to be more general than anything),buuut, before that, we'll  list our pick of what you should be watching this season!
Alex's Pick: Phi Brain: Kami no Puzzle
Mimi's Pick: Guilty Crown (best entertainment)
Liam's Pick: Natsume Yuujinchou Shi
Color Code: Mimi, Alex, Liam.
Ano Natsu de Matteru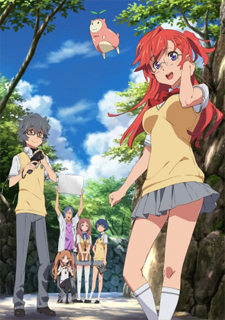 People say that romantic comedies are pretty dead, uninspired and generally nothing creative. Ano Natsu may not change very much about the convention, but it's a rather solid rom-com with only a few flaws.  The characters are pretty hit and miss, but the concept of an alien coming to earth and falling in love isn't done very often anymore. And with the direction that last episode took, I think it could turn out really well.
Another
I want to like Another. I really really want to like Another. But every episode that I watch, it annoys me how clueless and how moronic the characters in this show really are. The answer is right in front of their noses, but they waste episodes chasing dead ends and going to the beach. Unless the ending drastically improves, I don't see my final rating of this changing by much.
I don't know everything that Alex does, but I still like Another for the atmosphere and grotesque horror. I have my guesses, but I prefer to let mysteries surprise me rather than digging too deep and checking my answers. If I knew all the answers, then I wouldn't enjoy the show, like this grump. =P Or…it could be that I'm just a clueless idiot like these characters, but anyway… I'm looking forward to the finale~
Aquarion Evol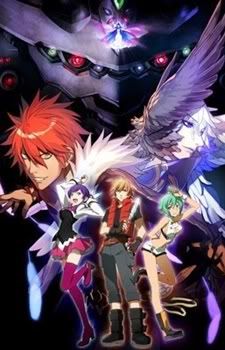 An anime about mechs powered by orgasms is a first for me. I never watched the prequel, Sousei no Aquarion, but I decided to give this a try anyway. To my surprise, it's easy to follow and actually quite enjoyable. The visuals are stunning, the characters are a colorful bunch, and you can't go wrong with Yoko Kanno composing the music. The only thing I don't like is the fan service and the main lead 'flying' every time a girl turns him on, but I can tolerate it. I'll keep watching as long as it's entertaining. The villains are getting pretty interesting lately. o.o
Area no Kishi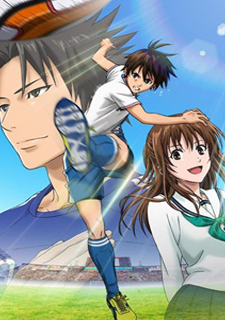 I don't make much habit of watching sports anime, but the game from the last few episodes captured my attention pretty nicely without letting it drift very far. However, it's very hit and miss with it's off-the-pitch scenes and slice of life, so i'm curious as to what it'll do now that the two teams bonded together.
Bakuman 2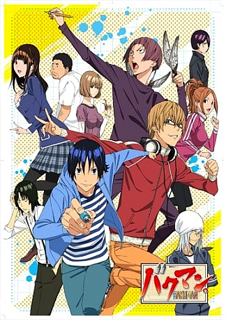 I often get the impression that i'm the only person who actually enjoys this show for what it is. People always end up comparing it to everything else, and saying how terrible it is and how it's taking its time. The romance arc which it's been through this last month hasn't been brilliant, but it's been acceptable. 
Beelzebub
I don't make a habit of shounen anime, either. Or any anime that's pretty much never-ending. However, oddly enough, I don't find many problems with this one. It's mindless and takes too long to get to the plot, but I find it funny and oddly addictive.
Chihayafuru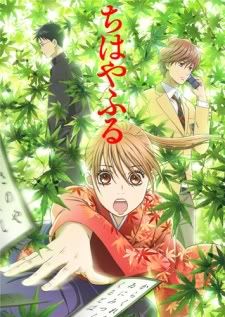 Chihayafuru needs a second season. Aside from not wanting to part ways with the charming characters, it probably won't get to the stuff I'm looking forward to most (ex: Arata vs Taichi). The show is still building up with training episodes, which are good, but really slow. It took twenty episodes for Arata to play in a tournament, Taichi still struggles to make Class A, and etc. Having come this far, I want to see all that build-up pay off and get into the more exciting material. But make no mistake–Chihayafuru is still a "feel good" series with some powerful moral messages to take home.
The biggest problem for me with this show is that I know it won't conclude naturally, it'll either force a climax upon the show or spiral into a never-ending cliffhanger. The characters and the entire atmosphere surrounding the show is brilliant and wonderful, and it's always a pleasure to watch. I even think this might be my first shoujo show, oddly enough…
Daily Lives of High School Boys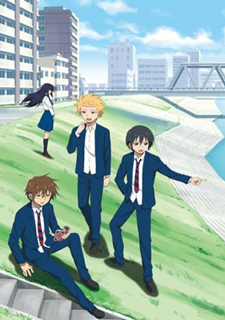 Most comedies which try a shotgun approach often fail and never work out, which is why i'm surprised that Daily Lives has turned out to be so funny. Each episode gives me the occasional smile or the occasional laugh, and that's all that counts. I miss Kimi to Boku, though…especially when I consider that I seem to be yawning or doing something else whilst watching the episodes lately. D:
Danshi is really great in my opinion. If you just want to watch something to get a quick laugh, or you've had a bad day. Danshi most likely will change that around. It's got it's silly jokes, and it's really humorous ones at times. Maybe I'm just immature, and they're just immature, and our immaturity expands to greater immaturity leading into a great big immaturity of laughter. I don't know xD It's definitely great as a comedy. And let me tell you, I love me some comedy. 
Guilty Crown
Guilty Crown is still my guilty pleasure of the season. Despite that it has plunged into total madness, I can't help but find all the drama, action, and wtf moments entertaining. It really isn't so bad once you stop taking it seriously. At least Shu looks like he's done angsting now.
Guilty Crown is also my guilty pleasure, and it's obviously a very guilty one. I've said everything I have to say about it before, so yeah…People just need to enjoy it for what it is.
Inu x Boku SS
Inu x Boku SS is pretty much like the non-yaoi version of Kuroshitsuji, so I obviously love it and find it hilarious. Everything in the show is either charming, funny or just brilliant. I just hope that the rumours about this ending at 11 episodes aren't true.
What I enjoy most is the growing relationship between Soushi and Ririchiyo. It's so cute~! The only thing I'd kick out of the show is Nobara's pervertedness, which is getting annoying. The other characters are okay; Renshou's comments can be pretty funny, and I love Banri for acting so much like Kyo Sohma…who was my favorite character in Fruits Basket! Like Alex, I can't believe there are only four episodes left. Feels like we're just getting started here.
Last Exile: Ginyoku no Fam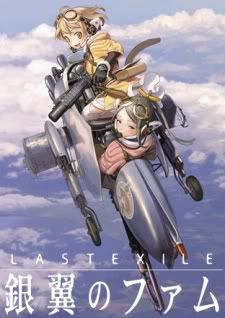 I have mixed feelings about Last Exile: Ginyoku no Fam going into its finale. While I consider the plot and villains to be a huge improvement over season 1, I've been struggling to connect with the new characters, like I won't miss them when they're gone. But the past few battles have been exciting, especially with Orang and Sadri. Best yet, we actually got to see Lavie and Claus for five seconds! Overall, I've enjoyed the sequel more for the nostalgia and returning characters than anything else.
I DO enjoy Last Exile 2, but, well….it feels like it's been a trade-off with the previous Last Exile. In return for updated graphics and a bigger, more realistic theme and world, it's traded off the characters…which were the stronger part of the first Last Exile. Can't win them all, I guess…
Mirai Nikki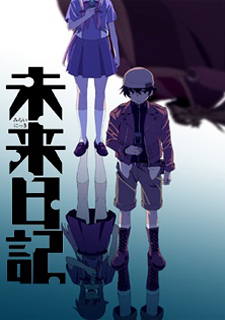 Future Diary has it's ups and downs. The first part was really average, but when Yukki finally manned up and became a male lead, it often feels like an episode has been skipped somewhere, and that's generally not pleasant. I did end up reading ahead in the manga to see if anything was skipped, though. Reading ahead made me want to watch the finale animated even moreeee~
Mouretsu Pirates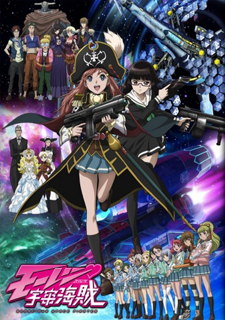 When was the last time you saw any pirates in anything? They used to be a huge trend, but now nobody does them anymore…and that's a shame, because pirates ARE awesome. This show takes a very unique approach to pirating, and has a really nice setting of galaxies and outer space, and, well…the episodes aren't failing to keep me interested. With their ship about to enter their first real fight next episode, I think i'll look at it higher next time around.
Natsume Yuujinchou-Shi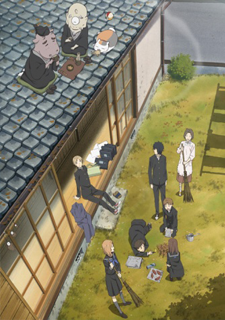 Ahh, Natsume. Natsume is like my anime drug, in one sense. I can never have enough of Natsume, even though most of it never changes. It never stops being charming, adorable, and cute in some places, and then it even manages to feel dark. Natsume's gotten itself into a rut, even though it's a very very very good rut to be in.
Natsume is wonderful. Like Alex said he can't get enough of it, neither can I. He took a lot of stuff I was actually going to say about it xD It does have it's charms, sillyness, and sometimes it can be dark. I've always been really attached to the Natsume series because it's just so lovable and enjoyable. Every episode will bring a smile to your face.
Nisemonogatari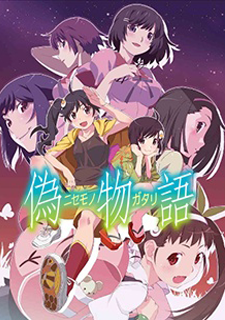 Hmm…Nisemonogatari. What do I think of this show? That…is a very strange question. The sequel seems to be entirely based around both of the sisters, much to my surprise. I expected them to, say, focus on one of the more interesting characters? I didn't really like Bakemonogatari very much, but I really enjoyed the witty discussions and manner of speech that Senjougahara brings to the table. Araragi is an acceptable male lead, but the first arc didn't have enough of what I like in this show. Let's see what the Tushki Pheonix arc has got in store…
Phi Brain: Kami No Puzzle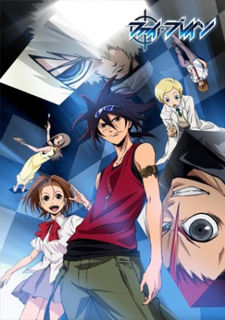 Phi Brain has turned out to be the surprise hit of the season. It's gone from being random for the sake of being random, to being brilliant because it can. Ever since it started using the puzzles to help the characters develop themselves, it's been a never-ending rollercoaster ride, and it hasn't failed to be top quality since. Everyone should at least try it, because with that second season coming up, it'll be a rare example of a 52 episode anime. 
 Pokemon: Best Wishes!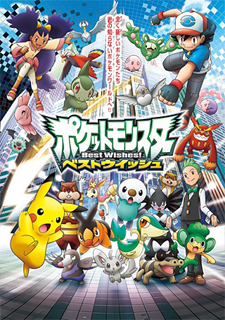 I may not have watched that much Pokemon this month (Only two episodes), but what i've watched has done a bang up job of carrying the element of retro Pokemon that the show's worked hard to create.
Poyopoyo Kansatsu Nikki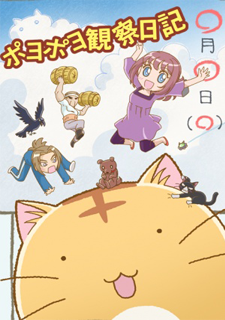 I really don't have much to say about this, apart from the fact that it's pretty much paradise for cat lovers. It's a bunch of skits about a fat cat and it's family, and nothing more. Funny and cute, but nothing huge.
Rinne no Lagrange
This anime is…weird, but in a good way. Three girls, a happy-go-lucky leader, an alien, and a ho pilot mechs to defend the Earth from other aliens. Okay, maybe she's not a ho, but she sure dresses like one. Anyways! The combination of the character's personalities, battles, and mysteries manage to entertain me enough to keep going, and the story seems to have potential. The best part of it for me is the pumping techno soundtrack. It's a must have. o_o