The Lady and the Samurai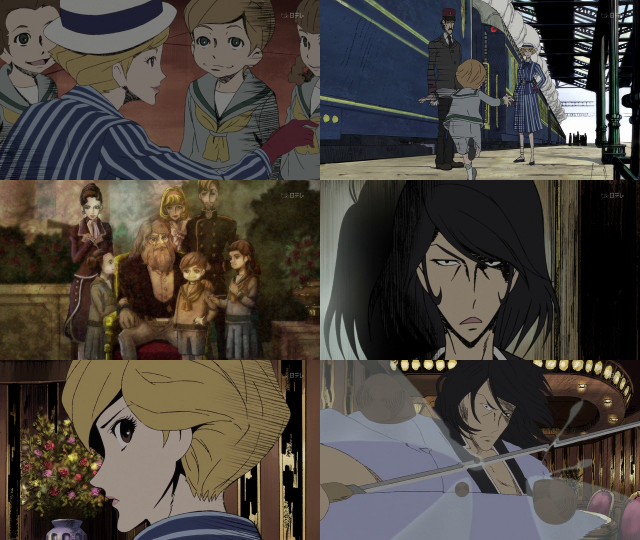 This episode features the introduction of Goemon Ishikawa XIII, traveling lone samurai. I'll say by far, this is my favorite episode of the series to date. It offers the hilarity to Lupin III: Fujiko Mine, and really feels like I am watching more of the classic Lupin material, which is pretty awesome. So we start off with The Woman Named Maria. (I wonder who she is). She is taking care of three grandchildren of a respectible art collector, Tranc George. Maria and the three children are on a train, which is carrying the valuable art collection. Goemon, also being on the train is on a mission, to assassinate Tranc George. However this is interrupted when one of the children, Marco runs into Goemon; with two ice cream cones in hand, and stains Goemon's wear. Which leads to one of my favorite sayings of the series; Goemon shouting "Too Soft!", I love that. Goemon washes off, meets Maria, and the children again. Goemon states he's a traveling entertainer, which in turn he takes a silver platter and cuts out a silver portrait of a rabbit, in awesome fashion! The three children greet him as "Samurai Freund".
Later on we see both Maria and Goemon standing outside of the last car of the train, talking about their endevors. Goemon is taking a liking to Maria. Moving along, Goemon sets out with his plans of assassination. A standoff between Goemon and Tranc George insues, Goemon ready to strike at anytime, Tranc George asks for an explaination. Turns out the people who requested the hit on Tranc George, are out for Goemon too, as they betray him. Goemon does not assassinate Tranc George, but in turn goes out, and takes out the hitmen after him. He succeeds, but at a cost. In order to save Maria and the children, Goemon has to cut off the train car which has the valuable art collection inside, which he does successfully. Maria says goodbye to the children, and runs off into the night. She confronts Goemon, and he in turn slices her clothes to pieces, which reveils her true identity; Fujiko Mine. (I am in shock!) She states that they shall meet again one day. Goemon runs off into the moonlight.
Vissi d'arte, vissi d'amore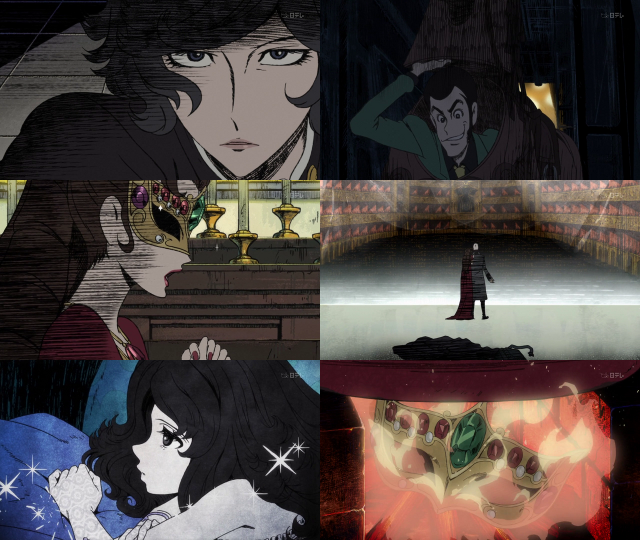 This episode starts off with one of the most surreal moments so far in Lupin III: Fujiko Mine… Inspector Zenigata, getting laid, by who you may ask? Fujiko Mine! I guess it's safe to say I was totally surprised, did not see that one coming. After Inspector Zenigata is done getting some, he presents her with a letter from Lupin, who says he will steal the precious and valuable mask of Opera singer Aiyan Meyer; whose mask is encrusted with gorgeous jewels and gems. Inspector Zenigata states; "In order to catch a theif, send out a theif", which explains Fujiko's role for the episode. So Fujiko sets off to the Opera, where she is a part of the show. In the middle of the Opera, Lupin wearing a horse costume "steals" Fujiko, and takes her back stage. The Opera resumes, only until the Ghost of the Opera shows up, and ruins the show.
Later on we find out that Aiyan has been out of the Opera circuit for five years; and who was protraying as Aiyan in said Opera's is a girl named Nora, as the Opera Ghost reveils. A pursuit insues to get the Jewel Mask, and pretty much, all hell breaks loose. You got everybody chasing everybody. Inspector Zenigata is chasing Lupin, Zenigata still using guns which he shoots Lupin, and a splash of blood comes out of Lupin… Not really, it's just a pump Lupin had in his jacket which has hot sauce in it, which he uses to spray down Inzpector Zenigata, who has sauce all over. Unable to see due to painfull blindness, he stumbles upon a trap door, which Oscar opens, and knocks Zenigata to the floor, Lupin then runs off. We find out that Aiyan and Da Renzo (The Opera Ghost) have been living a peaceful life these past five years, in the catacombs of the Opera house. Aiyan is making dinner, and has the mask in her hand, which she tosses into the fire, which she claims she doesn't need anymore, much to Fujiko and Lupin's dismay. The Episode ends with Aiyan asking if they'd like to have dinner with her and husband, which Fujiko accepts happily.
To end on a rather sour note, I will say I totally hate Oscar… He's a unlikable character. A condescending, abusive, threatening bastard, who is like that to everyone EXCEPT Inspector Zenigata… Yeah, the series would be a whole lot better if this A-hole didn't exisit.